Message for U.S. Citizens: U.S. Embassy Panama City, Panama (May 22, 2020)
Message for U.S. Citizens: U.S. Embassy Panama City, Panama (May 22, 2020)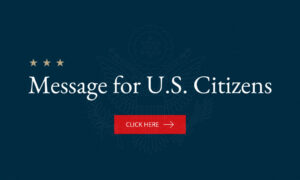 Location: Panama
Event: Planned Commercial Humanitarian Flight
At present the Department of State is making every effort to assist U.S. citizens overseas who wish to return to the United States.  As the COVID-19 situation develops, our ability to provide such assistance may become more limited or even unavailable.   There is no guarantee that the Department of State will be able to continue to provide repatriation assistance and transportation options to the United States may be unavailable in the future.   If you choose to remain overseas, you should be prepared to remain where you are for the foreseeable future.
The Embassy arranged for commercially-operated humanitarian flights for any U.S. citizen or other qualified traveler able to enter the United States who had expressed wishes to depart Panama.  The latest flight is now full.  We encourage you to be prepared to remain in Panama for the next 30-60 days, or perhaps more.
For now, continue checking with Copa customer service (+507-217-2672) for any openings due to cancelations on the May 25 flight from Panama City, Panama (PTY) to Miami, FL, USA (MIA).
NOTE – The Embassy is continuing its efforts to identify future flights to the United States.  Once in the United States, all domestic travel arrangements are the sole responsibility of the traveler.
If you have not already done so, please express your interest in consideration for future evacuation flights by emailing:  PanamaCityUSCitizen@state.gov .  If you have previously expressed your interest, you do NOT need to resubmit.
Consult the Embassy's website (https://pa.usembassy.gov/) for additional information on the situation in Panama and the Department of State's COVID-19 crisis page on travel.state.gov for the latest information.
Assistance: