Message for U.S. Citizens: U.S. Embassy Panama City, Panama (May 18, 2020)
Message for U.S. Citizens: U.S. Embassy Panama City, Panama (May 18, 2020)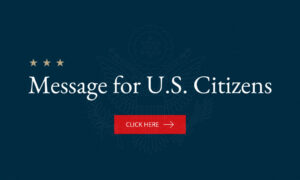 Location: Panama
Event:  Humanitarian Flights Require Approval by the Government of Panama
The Embassy is aware that United airlines is offering tickets for a flight on May 27.  The Embassy has received no indication that this flight has been approved by the Panamanian government.  We will continue to notify U.S. citizens in Panama of all approved humanitarian flights as soon as those flights have been scheduled and approved.
For now, the only approved, upcoming humanitarian flight is the May 19 flight with Spirit Airlines from Panama City, Panama (PTY) to Ft. Lauderdale, FL, USA (FLL).  This flight is full, but we encourage U.S. citizens interested in immediate repatriation to closely monitor Spirit's website (www.Spirit.com) for any openings due to cancelations.
The Embassy is continuing its efforts to identify future flights and will announce those flights once they are scheduled and approved by the Panamanian government.  If you have not already done so, please express your interest in consideration for future evacuation flights by emailing:  PanamaCityUSCitizen@state.gov .  If you have previously expressed your interest, you do NOT need to resubmit.
Assistance: