Message for U.S. Citizens: U.S. Embassy Panama City, Panama (March 25, 2020)
Message for U.S. Citizens: U.S. Embassy Panama City, Panama (March 25, 2020)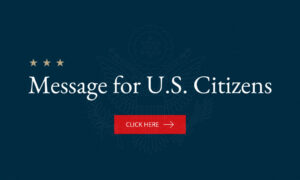 Location: Panama
Event: Possible Repatriation Flights
The Embassy is working to find evacuation options via commercial humanitarian and military flights for those U.S. Citizens wishing to depart Panama. There are no guarantees of these flights or the space available.
There is a U.S. military air flight scheduled for March 30 with a very limited number of seats available; we are in the process of notifying individuals who have already expressed interest in being evacuated from Panama about this flight. Additional Department of Defense flights are projected through April 9, with limited seating.
Availability will be based upon first-come first-served basis and will require a financial commitment in the form of a repatriation loan for the State Department calculated one-way fare to the destination of the aircraft, which is NOT negotiable.
Please express your interest in consideration for potential evacuation flights by emailing:  PanamaCityUSCitizen@state.gov.
Please enroll in Smart Traveler Enrollment Program (STEP) to receive Embassy Panama City security updates: https://step.state.gov/
Consult the Embassy's website (https://pa.usembassy.gov/) for additional information on the situation in Panama and the Department of State's COVID-19 crisis page on travel.state.gov for the latest information.
Assistance:
U.S. Embassy Panama City, Panama
Building 783, Demetrio Basilio Lakas Avenue
Clayton, Panama
+507 317-5000