Message for U.S. Citizens: U.S. Embassy Panama City, Panama (June 13, 2020)
Message for U.S. Citizens: U.S. Embassy Panama City, Panama (June 13, 2020)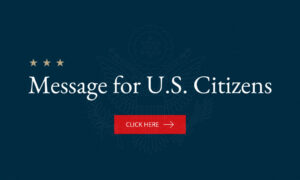 Location: Panama   
Event: Planned Commercial Humanitarian Flight   
The Embassy has identified one upcoming humanitarian flights with seats available. The flight is operated by United Airlines (flight number UA 2417) and is scheduled for June 19.  There are no additional flights planned at this time, so if you desire to return to the United States, it is important to book immediately.  Any traveler with the appropriate passport/visa to permit entry into the United States who wishes to depart Panama is eligible to purchase a ticket.  Travelers should carefully plan their onward travel as hotel options in Houston may be limited.  Once in the United States, all domestic travel arrangements are the sole responsibility of the traveler.  
The Embassy is aware that the Government of Panama has approved in-bound flights from the United States to Panama to provide Panamanian citizens and other qualified travelers the opportunity to travel to Panama.  Questions about qualifications necessary and approval for passengers on these flights should be directed to the Embassy of Panama, in Washington, D.C.  Airlines operating these flights, such as Copa Airlines, may occasionally be able to offer seats on the out-bound flights to some passengers.  Please contact the airline offering these seats for sale directly about those flights.  The U.S. Embassy in Panama will continue announcing all flights approved by the Panamanian Ministry of Foreign Affairs as humanitarian flights to the United States.  
NOTE – Because there are many seats available on the upcoming flights, no additional humanitarian flights to the United States are planned at this time.  We encourage you to purchase your tickets as soon as possible to ensure you are able to return to the United States.  U.S. citizens who choose not to depart on these flights should prepare to remain in Panama indefinitely and shelter in place.      
The currently authorized, upcoming humanitarian flights are:  
June 19 United Airlines, departing Panama City's Tocumen International Airport at 12:30 p.m. for Houston, TX, to arrive at 4:39 p.m.

 

June 20 Copa Airlines

 

(SOLD OUT)

,

 departing Panama City's Tocumen International Airport at 10:00 a.m. for Miami, FL, to arrive 2:15 p.m.
For additional information about this flight and to make reservations please contact United Airlines directly.  These tickets are available now and the Embassy encourages you to check United's website regularly for updates.   
Flights that appear to be sold out may have openings due to cancelations.  Continue checking directly with the airlines for any openings.  
There are no guarantees for these flights or the space available.   
The Embassy encourages interested U.S. citizens and LPRs to purchase early and forward your purchase confirmation email to the Embassy immediately at PanamaCityUSCitizen@state.gov so that we can assist you with the issuance of salvoconducto passes.   
The Embassy will continue its efforts to identify and seek approval for future humanitarian flights to the United States as long citizens indicate the desire to evacuate.    
Messages to U.S. citizens with updates on repatriation flights are sent daily to citizens living in Panama while the Embassy is assisting with approved flights from Panama to the United States.  Messages providing updated COVID-19 case numbers and information about the measures taken to combat COVID-19 in Panama will now be sent once per week, unless there are significant changes requiring immediate updates.  
Consult the Embassy's website (https://pa.usembassy.gov/) for additional information on the situation in Panama and the Department of State's COVID-19 crisis page on travel.state.gov for the latest information.  
Assistance:       
U.S. Embassy Panama City, Panama  
Building 783, Demetrio Basilio Lakas Avenue  
Clayton, Panama  
+507 317-5000  
Panama-ACS@state.gov   
https://pa.usembassy.gov/      
State Department – Consular Affairs  
+1 (888)407-4747 or +1 (202)501-4444      
Enroll in Smart Traveler Enrollment Program (STEP) to receive security updates.