Message for U.S. Citizens: U.S. Embassy Panama City, Panama (April 6, 2020)
Message for U.S. Citizens: U.S. Embassy Panama City, Panama (April 6, 2020)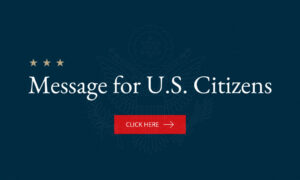 Location: Panama
Event: Planned Commercial Humanitarian Flight
The Embassy is working on evacuation options via commercially operated humanitarian flights for any qualified traveler with appropriate passport/visa to permit entry into the United States who wishes to depart Panama.  There are no guarantees of these flights or the space available.
There is one flight operated by Spirit Airlines (NK 6501) scheduled for April 11 with a limited number of seats available, and dates and times may change.  We are in the process of notifying individuals who have already expressed interest in being evacuated from Panama about this flight.
April 11, departing Panama City's Tocumen International Airport at 1:00 p.m. for Fort Lauderdale, FL, to arrive 5:00 p.m.
For additional information about the flight and to make reservations please contact Spirit Airlines directly.  Spirit anticipates ticket sales for this flight will commence Sunday, April 5.  The Embassy encourages you to check their website regularly for updates.
The Embassy encourages interested U.S. citizens and LPRs to purchase early and forward your purchase confirmation email to the Embassy immediately at PanamaCityUSCitizen@state.gov so that we can assist you with the issuance of salvoconducto passes.
If you have not already done so, please express your interest in consideration for potential evacuation flights by emailing:  PanamaCityUSCitizen@state.gov.  If you have previously expressed your interest you do NOT need to resubmit.
Please enroll in Smart Traveler Enrollment Program (STEP) to receive Embassy Panama City security updates: https://step.state.gov/
Consult the Embassy's website (https://pa.usembassy.gov/) for additional information on the situation in Panama and the Department of State's COVID-19 crisis page on travel.state.gov for the latest information.
Assistance: