Message for U.S. Citizens: U.S. Embassy Panama City, Panama (April 2, 2020)
Message for U.S. Citizens: U.S. Embassy Panama City, Panama (April 2, 2020)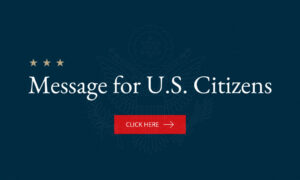 Location: Panama
Event: Cancellation of April 4 and 5 Military Repatriation Flights
The two anticipated U.S. military air flights scheduled for April 4 and 5 have been cancelled.  The Embassy is not aware of any additional flights currently.  The Embassy is exploring other options for evacuation flights.
If you want to be considered for future repatriation flights from Panama City, it is imperative you contact PanamaCityUSCitizen@state.gov immediately to register your interest. 
There is no guarantee that there will be further opportunities for repatriation to the United States.  If you choose to remain overseas, you should be prepared to shelter in place where you are.
Please enroll in Smart Traveler Enrollment Program (STEP) to receive Embassy Panama City security updates: https://step.state.gov/
Consult the Embassy's website (https://pa.usembassy.gov/) for additional information on the situation in Panama and the Department of State's COVID-19 crisis page on travel.state.gov for the latest information.
Assistance: