Message for U.S. Citizens: U.S. Embassy Panama City, Panama (April 1, 2020)
Message for U.S. Citizens: U.S. Embassy Panama City, Panama (April 1, 2020)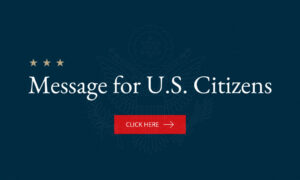 Location: Panama
Event: Planned Military Repatriation Flights
The Embassy is working on two options via military flights for those U.S. Citizens and Lawful Permanent Residents (LPRs) wishing to depart Panama. There are no guarantees of these flights or the space available.
There are two U.S. military air flights scheduled for April 4 and 5 with a limited number of seats available, and dates and times may change.  We are in the process of notifying individuals who have already expressed interest in being evacuated from Panama about these flights.
April 4, departing Panama Pacifico at 4:53 p.m. for Goodfellow Air Force Base, San Angelo, TX, to arrive 8:43 p.m.
April 5, departing Panama Pacifico at 11:00 a.m. for Norfolk Naval Station, Norfolk, VA, to arrive at 6:00 p.m.
The Embassy is not aware of any additional flights currently.  
Due to the proximity of the departure dates, it is imperative you contact PanamaCityUSCitizen@state.gov immediately and by 5:00 p.m. today, April 1, to register for these remaining planned flights. 
We will continue researching additional military and civilian commercial options.
Requirements, restrictions, and helpful information:
The flights are restricted to U.S. citizens and LPRs. All passengers must be in possession of a valid U.S. passport or I-551 (green card) in order to qualify for a flight.
Availability will be based upon first-come first-served basis and will require a financial commitment in the form of a repatriation loan for the State Department calculated one-way fare to the destination of the aircraft, which is NOT negotiable.
Please note these flights will arrive at U.S. military installations and you will be responsible for coordinating your onward travel, including transit from the base to a commercial airport.  The closest major airport near Fort Walton Beach, FL is New Orleans, LA; and the nearest to San Angelo, TX is San Antonio, TX.
If you are ill, you will not be permitted to fly. Prior to departure from Panama and upon arrival to the United States you will undergo a temperature screening.
All passengers must sign a promissory note to ensure payment of the required fare.
Baggage is restricted to two bags that cannot exceed total.
You may bring limited liquids and snacks.
Please express your interest in consideration for potential evacuation flights by emailing:  PanamaCityUSCitizen@state.gov.
Please enroll in Smart Traveler Enrollment Program (STEP) to receive Embassy Panama City security updates: https://step.state.gov/
Consult the Embassy's website (https://pa.usembassy.gov/) for additional information on the situation in Panama and the Department of State's COVID-19 crisis page on travel.state.gov for the latest information.
Assistance: