Message for U.S. Citizens: Foreign Service Officer Test (FSOT) June 2020
Message for U.S. Citizens: Foreign Service Officer Test (FSOT) June 2020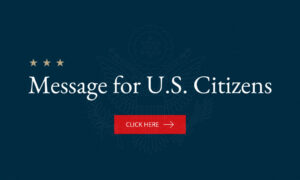 Due to the extraordinary and unpredictable nature of the COVID-19 pandemic, the June 2020 Foreign Service Officer Test (FSOT) has been temporarily postponed. For new test and registration dates for the next FSOT to be offered, please refer to: https://home.pearsonvue.com/fsot
Have you ever wanted to become a diplomat for the U.S. government? Here is your opportunity! The USMA-Universidad Santamaria La Antigua in Panama will be hosting the computer-based Foreign Service Officer exam.
The requirements are as follows:
Applicants must be citizens of the United States.
Applicants must be at least 20 years old.
Applicants must be available for worldwide assignment.
No specific level in a foreign language is required for applicants.
For detailed information on pursuing a career in the Foreign Service, to learn about what career track might be right for you, and to explore in detail the steps of the Foreign Service hiring process, please go to http://www.careers.state.gov.
All registrations for the Foreign Service Officer Test must be completed online. The test will be offered three times each year in February, June, and October and registration for the FSOT will be open on a continuous basis. Please do not delay in registering and scheduling your test seat as space is limited so availability is on a first-come, first-served basis. If the test seats are all filled, you will have to take the exam next time it is offered.
If you have specific questions about the Foreign Service Officer Test, you may send an e-mail to FSOTQuestions@state.gov.
Contact Info of USMA-test center in Panama is:
Universidad Católica Santa Maria La Antigua,
Ave. Ricardo J. Alfaro, Sede Principal, Edificio C,
arriba del Centro de Idiomas, Primer piso,
Oficina C-122, 0819-08550 Panama.
Phone: 230-8274 Test Center Information
See attached the building location map.