Message for U.S. Citizens:  U.S. Embassy Panama City, Panama (June 21, 2020)
Message for U.S. Citizens:  U.S. Embassy Panama City, Panama (June 21, 2020)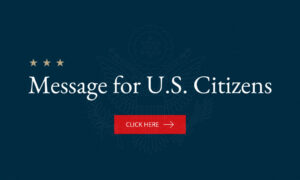 Location: Panama  
Event: Planned Commercial Humanitarian Flight   
At present the Department of State is making every effort to assist U.S. citizens overseas who wish to return to the United States.  As the COVID-19 situation develops, our ability to provide such assistance may become more limited or even unavailable.   There is no guarantee that the Department of State will be able to continue to provide repatriation assistance and transportation options to the United States may be unavailable in the future.   If you choose to remain overseas, you should be prepared to remain where you are for the foreseeable future.  
The Embassy arranged for commercially-operated humanitarian flights for any U.S. citizen or other qualified traveler able to enter the United States who had expressed wishes to depart Panama.  These flights are now full.  There are no other planned flights.   We encourage you to prepare to remain in Panama indefinitely and shelter in place.  
The currently authorized, upcoming humanitarian flights are: 
June 25 Spirit Airlines (SOLD OUT), departing Panama City's Tocumen International Airport at 1:00 p.m. for Fort Lauderdale, FL, to arrive 5:00 p.m.

 
Flights that are sold out may have openings due to cancelations.  Continue checking directly with the airlines for any openings. 
NOTE – The Embassy is continuing its efforts to identify future flights.  However, it is most likely that they will be with the same airlines and the same routes.  All domestic travel arrangements are the sole responsibility of the traveler. 
If you have not already done so, please express your interest in consideration for future evacuation flights by emailing:  PanamaCityUSCitizen@state.gov .  If you have previously expressed your interest, you do NOT need to resubmit. 
Please enroll in Smart Traveler Enrollment Program (STEP) to receive Embassy Panama City security updates: https://step.state.gov/ 
Consult the Embassy's website (https://pa.usembassy.gov/) for additional information on the situation in Panama and the Department of State's COVID-19 crisis page on travel.state.gov for the latest information.  
Assistance: 
U.S. Embassy Panama City, Panama
Building 783, Demetrio Basilio Lakas Avenue
Clayton, Panama
+507 317-5000
Panama-ACS@state.gov
https://pa.usembassy.gov/
State Department – Consular Affairs
+1 (888)407-4747 or +1 (202)501-4444 
Enroll in Smart Traveler Enrollment Program (STEP) to receive security updates.