Good Deeds Day: U.S. Embassy Teams With NGOs to Benefit Nueva Luz Community
Good Deeds Day: U.S. Embassy Teams With NGOs to Benefit Nueva Luz Community
Panama City, 15 April 2019. On occasion of Good Deeds Day on 7 April, the U.S. Embassy in Panama collaborated with The American Society of Panama and local NGO Techo, which works to provide affordable housing across the region, to help build housing and basic infrastructure to Nueva Luz, an underserved community with a population of approximately 150, located in the outskirts of Panama City.
U.S. Embassy Panama brought a group of willing volunteers made up by American officials, Panamanian local hires, and their families. Participating U.S. embassy agencies included the Department of State, Drug Enforcement Administration, Department of Homeland Security, and the Foreign Commercial Service.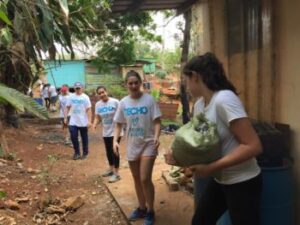 The Nueva Luz community is located on a steep hill, which makes it treacherous for people to access the community on foot, especially during the rainy season when the path is extremely slippery and muddy.
To address this issue, participating entities purchased materials, built 50 meters of sidewalk, and set the groundwork to build an additional sidewalk of 20 meters. This was a cooperative effort with everyone – volunteers and community members — involved.
"The sidewalk is very important for our community because it improves our quality of life. We need it so children and adults can move to and from the community. It is also important because we now have a path we may use in case of emergencies," said Nueva Luz community leader Lissy Pineda.

Children were anxious to help but since they were too small to help with the sidewalk, they helped picking up garbage and cleaning. Volunteers enjoyed a lunch prepared by the community, and discussed the importance of placing garbage in the proper place.
"We are happy because the U.S. Embassy, Techo, and the American Society made a small but significant contribution that allows our children to have a path to walk. Their cooperation was very comforting," added Pineda.