2 simple steps for U.S. citizens overseas to vote from anywhere
2 simple steps for U.S. citizens overseas to vote from anywhere
Are you living or working outside the States? No matter where you are, you can vote.   
If you're a U.S. citizen living abroad, you can have your absentee ballots sent to you this election year. Here's how:   
Register to vote and request your ballot.
Fill out the Federal Post Card Application (FPCA) and send it to your election office as soon as possible for the General Election on November 3, 2020.   
Find your state deadlines, election office's contact and other helpful information at FVAP.gov.  
Your voting residence (the U.S. state or territory where you are registering to vote) is likely your legal residence or the U.S. address where you last resided. Here's how to determine your voting residence.   
Using the FPCA ensures that your state will send your ballot to you at least 45 days before the election — a protection not guaranteed when using other forms. It's a good idea to send in a new FPCA every January and each time you move.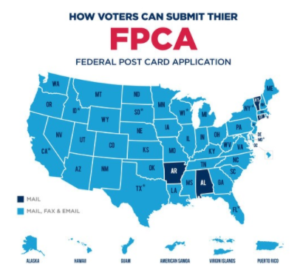 California and Wisconsin – To register to vote, voter must mail or fax the FPCA. If already registered, voter can request a ballot by email, mail, or fax.

Idaho, Florida, Maryland, and South Dakota – To register to vote, voter must mail the FPCA. If already registered to vote, voter can request a ballot by email, mail, or fax.

New York – If voter emails or faxes the FPCA, voter must also mail the FPCA.

Texas – Timely faxed FPCA must be followed by a hardcopy mailed FPCA that must be received by the early voting clerk by the fourth business day after the fax.

 

 
Fill out and send in your ballot when it arrives.
For the general election, you should receive your ballot by early October.   
Vote and send back your ballot as soon as you receive it. The recommended vote-by date is October 13, 2020 if you are outside the U.S.  
If you requested your ballot but haven't received it, contact your election office to ask about the status of your ballot request.   
If there isn't enough time to receive and send back your ballot before the election, use the Federal Write-In Absentee Ballot (FWAB). It works like a backup ballot. If your official absentee ballot arrives after sending in the FWAB, fill out and send in the official ballot too. Only one will be counted.   
Instructions for Sending in your Ballot in Panamá:  
Some states allow you to return your FPCA form or completed ballot electronically and others do not.  If your state allows you to submit forms and ballots electronically, please do so to avoid potential mailing delays.   
If your state requires you to return paper voting forms or ballots to local election officials, you can do so free of charge at the nearest U.S. embassy or consulate.  Embassy Panama will accept FPCA forms and ballots mailed to our offices at the address listed below:  
Embajada de los Estados Unidos
ATTN: Voting Officer
Edificio 783, Ave. Demetrio B. Lakas
Clayton, Panama City, Rep. Of Panama  
If it's more convenient for you, you can also return your FPCA or ballot to your local election officials via international mail or professional courier service at your own expense.   
A ballot drop-box is also available near the main entrance of the Embassy.  Those who wish to drop their forms or ballots in the drop box may do so at any time during regular business hours: Monday through Thursday from 8:00am to 3:00pm and Friday from 8:00am to 12:00pm.  
Since your FPCA or ballot will enter the U.S Postal Service mail system after the Embassy sends it to the United States, you must either use a postage paid envelope (one is generated by the FVAP Automated Assistant), or the correct postage amount must be affixed to the envelope. The U.S. Embassy cannot send the FPCA or ballot if it does not have correct postage or a postage paid envelope.  
We estimate that a ballot mailed from the U.S. Embassy will take up to two weeks to arrive at your election office.  Please verify the due date for absentee ballots with your election office and be sure to send your ballot as soon as possible, but no later than two weeks before the deadline. To verify that your ballot was received, please check directly with your election office.  
Get started at FVAP.gov.  
Assistance:  
U.S. Embassy Panama City, Panama
Building 783, Demetrio Basilio Lakas Avenue
Clayton, Panama
+507 317-5000
Panama-ACS@state.gov
https://pa.usembassy.gov/  
State Department – Consular Affairs
+1 (888)407-4747 or +1 (202)501-4444
Enroll in Smart Traveler Enrollment Program (STEP) to receive security updates.
Follow us on Facebook and Twitter.